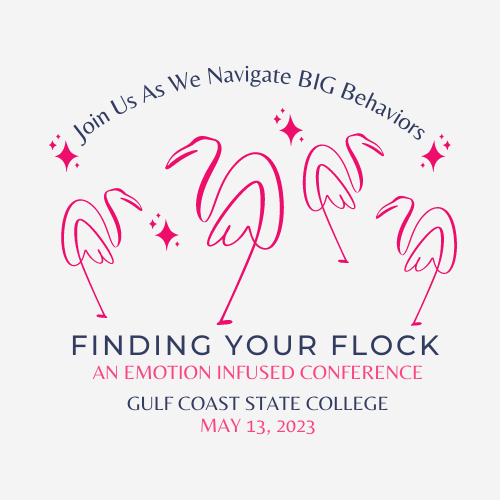 Join us for this on May 13th , 2023 at Gulf Coast State College's Student Union East Building for "Finding your Flock" and an emotion-infused early learning conference. During this unique, one-day event, you will have the opportunity to learn more about how to help children navigate their new and big emotions, and much more.
Attendance at the conference will cost $20.00, which will need to be paid at the time of registration. All qualified conference attendees will earn CEUs for their time in sessions and a $100 stipend for their participation. All providers with staff in attendance will have the opportunity to apply for an implementation grant that can be used to bring this new knowledge to the classroom.
Check in and breakfast will start at 7:30 AM. All conference activities will be held from 8:00 AM to 4:00 PM. A boxed lunch with a sandwich of your choosing, a side salad, and a dessert item will be provided by Newk's Cafe. Attendees will need to be registered separately so they can indicate their choice for lunch.
If you have any questions about registration for the conference, CEUs, Stipends, or lunch options please email lindsay.holmes@elcnwf.org.
Click the blue button below to be taken to the FLAEYC website to complete the registration.
Click here for more information and to register